Professional Conference Organiser (PCO) - MSM Hospitality Services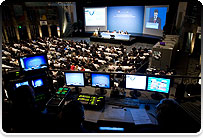 MSM Hospitality Services believes in becoming a part of the conference and its involvement begins right from the inception and planning stage.
The services will include deciding, Best Time for the Event, unless specified Best Location and Venue Generating feasibility report of the Venue Booking the Conference Venue in time Advising and Booking the accommodation for Delegates Liaising with Venue and organizing deposits Updating contacts with venue Managers Advising and organizing promotional material for the Conference Arranging for Sponsors Organizing social programmes for the delegates and accompanying partners Arranging Transportation for Delegates Organizing special tour programmes of nearby attractions.
Services
Pre- Conference
Communications regarding participation, travel arrangements, hotel rooms
Design & printing stationery, brochures, invitation cards
Media & public relations
Protocol
Security
Delegate badges
Logistics
In-Conference
Audio-visual equipment
Floral arrangements
Registration
Hall management
Documentation including translation
Exhibition & stand-up displays
Accompanying persons programmes
Post-Conference
Tours
Reports
Winding-up
Preparation of the final report on the conference.
Coordination of all Post- Conference matters and closing of bank accounts.